Rude Health Brown Rice Thins 130g
Availability:
od 1 do 14 dni
Dispatched within:
Up to 14 days max
add to wish list
0
Product code:
RUDEHEALTH1
Description
Organic Rice Thins. The puffed rice bites that actually taste of something. Brown rice... and nothing else!

Just don't call them rice cakes.
Why are these so much tastier than rice cakes? Maybe it's because they're thinner, so they're crispier and more satisfying. Maybe it's the whole grains of organic Piedmontese rice we use - they're the best we've ever had. Whatever it is, Rude Health Rice Thins are the perfect crunchy nibble with a little something on them, or even bare naked straight from the pack (just keep the curtains shut).
Product Information
Brand
Rude Health
Storage
So tuck in. And store in a dry place.
Prepare & Use
How we like them:
- Retro: with organic peanut butter and home-made jam in a lunchbox.
- Boho: broken up, with cream cheese and caviar.
- Uh-oh: with guacamole and a little bit of red chilli
Manufacturer
Bedford House,
69-79 Fulham High Street,
London,
SW6 3JW.
Package Type
Box
Recycling Information
Carton box recyclable
Nutrition
Allergen Information
May Contain Nut, Free From Gluten
Ingredients
Brown Rice 100%.
Dietary Information
No Added Salt
High Fibre
Wholegrain
Low Fat
Free From Genetically Modified Ingredients
Nutritional Data
| Typical Values | per 100g | per thin |
| --- | --- | --- |
| Energy | 381 kcal | 24 kcal |
|   | 1610 kJ | 103 kJ |
| Fat | 2.9g | 0.2g |
| of which saturates | 0.9g | 0.1g |
| Carbohydrates | 76g | 4.9g |
| of which sugars | 0.8g | 0.1g |
| Fibre | 6.5g | 0.4g |
| Protein | 7.8g | 0.5g |
| Salt | <0.38g | trace |
Retro:

 with organic peanut butter and home-made jam in a lunchbox

Boho:

 broken up, with cream cheese and caviar

Uh-oh:

 with guacamole and a little bit of red chilli.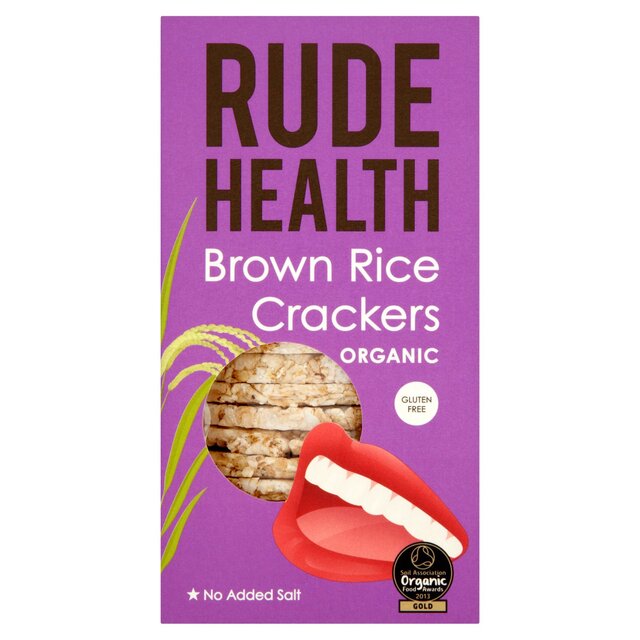 Eat right, stay brilliant
At Rude Health we only use the kind of ingredients you'd have in your own kitchen – nothing artificial, nothing refined. We source our ingredients from fields, orchards and vines – not laboratories. We think food should be made out of food – not thickeners, preservatives, colourings, flavourings and other additives. The proof is in the taste, try it for yourself. When you've got food this good inside you, you'll be up for anything.
*Clean ingredients
*No refined sugars
*No artificial anythings
*Non-GM
Rude Health is a London-based food and drinks company co-founded and led by Nick & Camilla Barnard. 
We're a small and proudly outspoken bunch that isn't afraid of standing up for real, honest food - the way it 
should be. 
FREQUENTLY ASKED QUESTIONS
WHERE DO YOU SOURCE YOUR INGREDIENTS?
All of our porridges are made with 100% Scottish Oats.
Our Mueslis are made with a mix of Scottish oats and English Oats, with the exception of Nutty Crunch.
We buy the majority of our fruits, nuts and seeds from Europe or from countries around the Mediterranean, from areas where they grow best, where they have been grown historically and sustainably, and always from the same producers who we have used for years.
WHERE ARE YOUR FOODS MANUFACTURED?
All of our Mueslis and Porridges are blended in England.
Our Oatys are baked in Scotland, using Scottish Oatmeal.
Our Granolas, Light Cereals, Drinks and Thins are all manufactured in Europe. We only ever use manufacturers who meet our standards for quality and sustainability, close to areas where the ingredients are grown naturally and who we have known and used for years.
WHERE CAN I BUY YOUR PRODUCTS?
Enter your town or postcode on our 'Where to buy' page to find your nearest store stocking our food and drink. Alternatively, you can order directly through our online shop.
WHICH OF YOUR FOODS ARE KOSHER?
The Ultimate Muesli, No Flamin Raisins, Super Fruity, Nutty Crunch, Daily Oats, The Oatmeal, Fruity Date, 5 Grain 5 Seed, The Ultimate Granola, Strawberry & Raspberry Granola, Honey & Nuts Granola, Spiced Apple Granola, Puffed Oats, Honey Multiflakes, Honey Puffed Oats, Puffed Brown Rice, Multigrain Thins, Brown Rice Thins, Corn Thins, Oat & Spelt Thins, The Pumpkin, The Beetroot, Almond Drink, Brown Rice Drink, Oat Drink, Coconut Drink.
WHAT ARE THE GLYCAEMIC INDICES OF YOUR FOODS?

Unfortunately, we cannot provide you with the Glycemic Index rating of our foods. We looked into getting the Glycemic Index of some of our foods, however there was great variety with the results and we did not want to publish these, as we can't guarantee the validity. We can however assure that all of our foods are produced using whole grains, which release energy slowly. We only use natural unrefined sugars in our foods containing sugar, and keep the quantity to a minimum.
MY CEREAL ALWAYS FALLS THROUGH THE HOLE IN THE BOX ON THE FLOOR, PLEASE COULD YOU RE-THINK THE HOLE?
We chose to have the window in the box to allow consumers to see the product before buying to demonstrate that we are proud of our foods and are transparent in everything we do from sourcing to selling.
If you find that your cereal can spill through the hole, we suggest lifting the bag above the box before pouring and then easing back into the box when you're finished.
WHY AREN'T ALL OF YOUR PRODUCTS ORGANIC?
One reason is that choosing Organic certified ingredients means we have very little choice in the range and quality of foods we buy. The soaring cost of organic ingredients is also responsible for limiting our choice further. It's clear, for instance, that we can buy the highest quality traditional variety apples that are farmed sustainably by a responsible farmer we know well, dried with no preservatives or sweeteners, and that taste better than other Organic dried apples, and are cheaper. In this case we would rather use the conventional apples. We look at all ingredients we use with this discipline.
Another reason for this is that, when grown sustainably in their natural habitat, it's entirely possible for there to be no discernible difference between the Organic certified & conventional ingredients, other than the cost. This applies to our porridge oats, which are exclusively Scottish, and from the same mill as our organic oats. In this case it makes more sense to us to select conventional oats that are sustainable and do not compromise our ethics or the taste of the food.
Furthermore, for a food to be certified Organic it must contain more than 95% Organic ingredients. Some of our conventional foods still contain Organic ingredients, but only those that need to be Organic to meet our demands for sustainability, ethics and taste, however in this case the food can't be called Organic.
We have only used non-organic ingredients when we are satisfied that our demand for ethics, sustainability and taste are met. We do not take the decision to produce either Organic or non-Organic foods lightly and it is a topic that will always remain very top of mind with the business.
WHY ARE YOUR PORRIDGES NOT GLUTEN-FREE?
Oats as a grain do not contain gluten, however it does contain a protein very similar in molecular structure to gluten, called avenin. Avenin may cause some trouble for people who cannot tolerate gluten, while others may find that it is not a problem. For a porridge to say it is 'gluten-free', it will still contain the avenin structure as strictly speaking this is not gluten, however it will have been grown and manufactured in an environment where no cross contamination could occur with other gluten-containing grains e.g. wheat.
Our oats are not 'gluten-free', as they have not been grown and manufactured in this way, and may contain traces of gluten containing grains.
If you cannot eat gluten and are unsure if you can eat oats, we recommend that you follow your doctors advice and the advice on the coeliac website which recommends introducing oats to your diet in small quantities to see how your body reacts.
If you are looking for a gluten-free breakfast option, we have two gluten-free cereals including Puffed Brown Rice and Honey Puffed Oats.
WHY DO YOU USE SUGAR IN YOUR OATY BISCUITS?
We use a very small quantity (less than 2%) of unrefined cane juice sugar to achieve the best flavour with the smallest amount of sugar possible. We don't have strict diet restrictions, but believe in everything in moderation. We make our food to taste how we would want it to, and we eat it! We only ever use unrefined natural sugars such as honey, date syrup and unrefined cane juice sugar because of the nutrients retained within the sugar and the richer flavour. To find out more about sugars, see our Eat Right Breakfast Discussion on Sugars.
WHY DOES THE ALMOND DRINK ONLY CONTAIN 1% ALMONDS?
We found that this was the perfect amount for a delicious and smooth almond taste. If we added more almond it began to taste like marzipan, whereas any less simply tasted of rice.
Each of our drinks contain 5 ingredients or less and is made with 100% organic ingredients, we do not add any thickeners, stabilisers or sweeteners. This is what gives the Almond Drink its refreshingly smooth and clean taste.
WHY DO YOU ADD RICE TO YOUR ALMOND AND COCONUT DRINK?
The Rice acts as a natural thickener and sweetener in our Drinks, we use Rice rather than adding artificial thickeners, sweeteners or other additives so that our Drinks are as pure, simple and natural as possible.
WHY DO YOU USE COLD-PRESSED SUNFLOWER OIL IN YOUR DRINKS?
We used a tiny amount (1%) of cold-pressed sunflower oil in our Oat, Almond and Brown Rice Drink to act as an emulsifier and to create a deliciously smooth and creamy drink.
We chose to use cold-pressed oil as it has been minimally processed, it also retains a fuller flavour and greater nutritional value.
WHY DO YOU NOT ADD CALCIUM TO YOUR DRINKS?
Our delicious drinks are a refreshing alternative to milk and are made with five or less ingredients. We only use the kind of ingredients you'd have in your own kitchen and source them from fields, orchards and vines – not laboratories. We add nothing to our drinks (emulsifiers, thickeners, sweeteners) and take nothing away from them – we believe that pure, si…