Quorn Mozzarella & Pesto Escalopes 240g
Availability:
wycofany z oferty
add to wish list
Description
ATTENTION!
By selecting to purchase this fresh product, you accept that this product may have a limited , between 1 to 14 days of fresh "use by date" remaining when its ready to be collected from our shop in Warsaw or shipped to you from Warsaw. (This may mean that when your this product is delivered to you  the next day after shipping,  it may have only 1 day of fresh use by date remaining).

Fresh and frozen products shipped from Warsaw are protected with reusable cold inserts, which provide limited chilled environment up to 24 hours. After receiving the package, these products should be immediately inserted into the refrigerator. Full terms & conditions of ordering fresh and frozen products are available in the Terms & Conditions Section.
Quorn 2 Mozzarella & Pesto Escalopes
Delicious Quorn Escalopes topped with creamy mozzarella and a fresh green pesto sauce
Product Information
Storage
Keep refrigerated and use by the date shown on the front of the pack. 
Can be frozen on day of purchase and kept for up to 3 months.
Do not refreeze once thawed
Prepare & Use
Remove all packaging. For best results, oven cook.
Pre - heated oven
Place on a pre-heated baking tray & cook in the oven at 200°C/400°F/Gas Mark 6
on the middle oven shelf for 15 mins. For fan assisted ovens, reduce cooking time
by 2 mins. To cook from frozen, increase cooking time by 5 mins.
Grill
From chilled. Pre-heat grill to a medium setting, grill for 8 mins, turning frequently.
For best results cook sauce side down first and turn half way through cooking time.
Shallow fry
Fry in 1 tbsp oil over a medium heat, cook for 10 mins. turning frequently. 
For best results, cook the sauce side down for the first 2-3 mins. To cook from 
frozen, increase the cooking time by 5 mins.
For a great tasting product do not overcook, but ensure it is piping hot before 
serving. All appliances vary these are guidelines only.
Serving tip: 
Why not cook some cherry tomatoes on the vine on the baking tray with your
escalopes, drizzle the tomatoes with a little balsamic vinegar and serve with 
mixed salad leaves
Country of Origin
EU.
Manufacturer
Marlow Foods Ltd.,
Station Road,
Stokesley,
North Yorks,
TS9 7BR
Package Type
Sleeve.
Other Information
Free from artificial colours
Free from artificial preservatives.
Nutrition
Allergen Information
Contains:

Gluten, Wheat, Egg, Lactose, Milk, Yeast
Ingredients
Quorn Escalope (43%) [Mycoprotein*, Rehydrated Free Range Egg White, Onion, Flavourings, Milk Proteins, Tapioca Starch, Gelling Agent: Pectin], Vegetarian Soft Cheese (with Corn Flour), Vegetarian Mozzarella Cheese (12%), Nut Free Pesto (Basil Purée (Sweet Basil, Salt, Sunflower Oil,) Vegetarian Medium Fat Hard Cheese, Garlic Purée), Batter (Wheat Flour, Salt, Rapeseed Oil), Breadcrumb (Wheat Flour, Yeast, Salt, Emulsifier: E472e; Flour Treatment Agent: Ascorbic Acid), Vegetable Oil, *30% of product
Dietary Information
Suitable for Vegetarians
Contains Gluten
Contains Wheat
Contains Eggs
Contains Milk
Nutritional Data
| Typical Values | per 100g | PER ESCALOPE |
| --- | --- | --- |
| Energy | 906kj | 1108kj |
| Energy | 221kcal | 265kcal |
| Protein | 10g | 10.8g |
| Carbohydrate | 15g | 20.4g |
| of which sugars | 2g | 3g |
| Fat | 13g | 15.6g |
| of which saturates | 3.3g | 3g |
| Fibre | 4.5g | 5.4g |
| Sodium | 0.6g | 0.6g |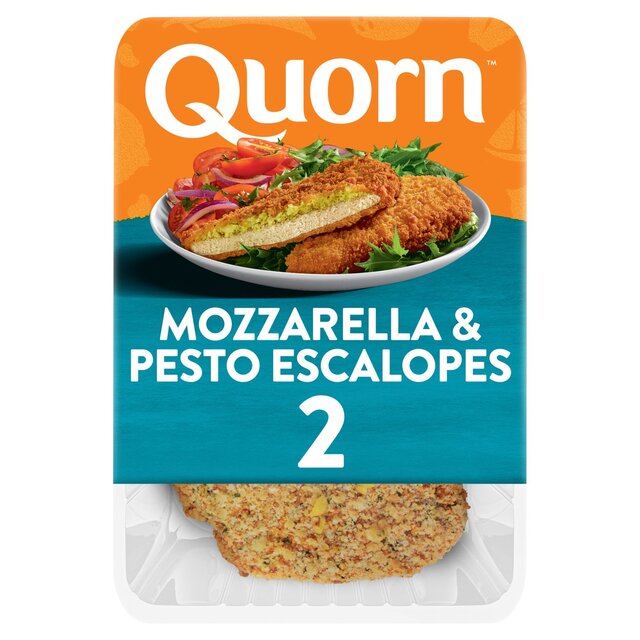 Related products