Jungle Formula Bite & Sting Relief Cooling Spray 50ml
Availability:
od 1 do 14 dni
Dispatched within:
Up to 14 days max
add to wish list
0
Description
Jungle Formula Bite & Sting Relief effectively soothes and relieves the discomfort and itching of bites and stings, including nettle stings.
The convenient 50ml aerosol has a directional spray to target the affected area
The cooling spray contains Bisabolol and Liquorice extract and is suitable for all ages
Product Information
Storage
Store in a cool dry place.
Prepare & Use
Directions For Use. 
Can be used from the age of 3. Hold about 10cm (3-4") from affected area, spray for 1-2 seconds, allow to dry, repeat if necessary.
Caution:
For external use only - keep out of reach of children. Do not spray near eyes, lips and broken or sensitive skin.
In the unlikely event of any skin reaction discontinue use. Keep away from varnished and painted surfaces.
This container is pressurised.
Keep away from heat, including direct sunlight and do not expose to temperatures exceeding 50C. Do not puncture or incinerate, even when empty. Do not spray in the direction of a naked flame or any incandescent material.
Keep away from sources of ignition - no smoking. Extremely Flammable.
Country of Origin
Ireland.
Manufacturer
Chefaro UK Ltd.,
1 Tower Close, 
Huntingdon,
Cambs,
PE29 7DH..
Package Type
Aerosol.
Nutrition
Ingredients
Isobutane, Butane, Propane, Alcohol Denat, Polyvinyl Caprolactam, Ethoxdiglycol, Benzyl Alcohol, Licorice (Glycyrriza Glabra) Extract, Matricarcia (Chamomilla Recutita) Extract, Phenoxyethanol & Methyl & Ethyl & Propyl & Butyl Parabens, Menthol, Glycyrrhetic Acid, Menthyl Lactate, Bisabolol, Fragrance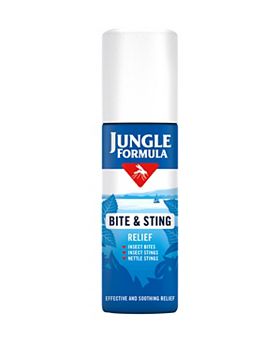 Jungle Formula Outdoor & Camping Wins Product of the Year 2013!
Jungle Formula Outdoor and Camping – an innovative new insect repellent – has been announced as the 2013 Product of the Year, Outdoor Healthcare category winner. The award, which is voted for by over 12,000 consumer households, cements Jungle Formula's position as the number one insect repellent brand1.
The easy to apply and alcohol free pump spray, has been specifically developed to protect against midges, wasps, mosquitoes, bees and horseflies.
Introducing The New Jungle Formula Insect Repellent Factor
From the Costa Del Sol to Costa Rica – or even a quick trip to Cornwall, our new Insect Repellent Factor system makes it easy to choose the protection that's right for you. When you want to feel sure you're protected, choose the UK's favourite insect repellent.
Bugs
Jungle Formula is effective against mosquitoes, midges and a variety of other flying, biting insects. Those found in the UK and other non-tropical areas such as Europe and the Mediterranean are not as dangerous as those found in the tropics. Although the reaction to insect bites can be uncomfortable, itchy and painful, it is rarely fatal.
The most irritating insects in the UK are mosquitoes and midges and in areas such as the Scottish Highlands and Lake District, they can be particularly menacing.
Travelling abroad, particularly to tropical areas, is more dangerous and special care should be taken to protect your self against being bitten, especially by mosquitoes, which can carry serious diseases such as Malaria, Dengue Fever, Yellow Fever and West Nile Virus.
Mosquitoes ? the facts
Mosquitoes are like mini-vampires, feeding mostly between dusk and dawn. However, they can tolerate sunlight and can be present during daylight hours, often taking refuge indoors. Only female mosquitoes bite because they need the protein from the blood for their eggs to develop. Male mosquitoes prefer to feed on flower nectar. Mosquitoes tend to lay their eggs in stagnant water and humid conditions to help the development of the larvae.
Mosquitoes are attracted to people by various factors including warmth, movement, smell and carbon dioxide from our breath. Insect repellents work by making it difficult for them to find us by inhibiting the receptors in the mosquitoes antennae which would normally be stimulated by these attractants. Some people smell much more appetising to mosquitoes than others and it is worth remembering that perfumes found in soaps, skin and hair-care products may also attract mosquitoes.
Mosquitoes are responsible for the spread of serious diseases, some of which can be fatal.
Just One Bite
Despite popular belief, everyone gets bitten; it is just that some people do not show a "reaction" to the bite. This reaction (itching, swelling and redness) is caused by an allergic response to the insect
Prevention
Before you go. More and more people are travelling abroad for business, as well as holidays. Last minute bargain breaks and cheaper airfares are making the world more accessible to us all. However, there are certain precautions you should take to ensure a safe and successful trip.
Before travelling to countries with a high risk of insect-transmitted diseases, always consult your GP or travel clinic well in advance to obtain the most up- to-date medical advice on the most effective medication for the country you plan to visit. Remember you may need to start taking medication up to three weeks before travelling.
Check for the latest information on the country you are travelling to:
The Hospital for Tropical Diseases – for travel health advice.
Know Before you Go – Foreign and Commonwealth Office advice to help British travellers stay safe overseas.
Whilst Away
No preventative medication offers 100% protection, so the first line of defence is to avoid being bitten.
The mosquitoes which carry malaria are night time feeders and day time sleepers. They actively feed between dusk and dawn, so that is when you need to take extra precautions including:
Using a product from Jungle Formula's Maximum or Maximum Plus insect repellent range.
Wear long sleeved shirts, long trousers and socks to cover ankles between dusk and dawn.
Apply Jungle Formula Maximum or Maximum Plus insect repellent to all exposed areas of skin. * Reapply regularly to ensure complete protection, particularly in extreme conditions, as high temperature, humidity and other environmental factors can reduce the duration of protection of all insect repellents.
Try to sleep in rooms that have screens on all windows and doors.
Sleep under mosquito nets, which have been impregnated with Permethrin. Make sure the net has no holes in it and tuck it under the mattress. If you are in a mosquito area for a long time remember to re-treat your net with Permethrin every six months.
Use Jungle Formula Plug-In Mosquito Killer, which slowly releases a long lasting insecticide
vapour in enclosed areas such as hotel rooms.
But remember, other diseases, such as Dengue Fever are carried by mosquitoes that bite during the day, so it is important be protected during daytime hours as well.
Wherever you're going, whatever protection you need, Jungle Formula has the right products for you.
And to help make choosing from our range even easier, we've introduced the Insect Repellent Factor system.
Jungle Formula is the only brand of insect repellent with specific formulations for different needs and destinations. Just look out for the new labelling and numbering system.
Insect Repellent Factors available: 
- IRF 2 – Sensitive Skin – great for sensitive skin or for young children, this range gives you great protection without irritation 
- IRF 3 – Natural - made with 40% oil of lemon eucalyptus for a more natural protection against biting insects
-IRF 3 – Outdoor & Camping – Contains IR3535, alcohol free with aloe vera – particularly suitable for outdoor use and camping activities
- IRF 3 – Medium – ideal for use by adults and children over 3, at home or on short-haul holidays?
- IRF 4 – Maximum – for use when visiting long haul and high disease-risk destinations or if you're prone to bites, Maximum provides up to 10 hours defence
- IRF 4 – Maximum Plus - Endorsed by the Hospital for Tropical Diseases. 50% Deet & plant extracts – Particularly suitable for long haul travellers and malaria risk areas and for those wanting that extra protection
With Jungle Formula you know that whatever you choose, it'll be effective. That's why it's the UK's favourite insect repellent.*
* Source: IRI 52 w/e Sept 2010